Is your hall closet looking a little sad? Overrun with clutter? Do you feel a sinking feeling when you go to open it? Could you use a more efficient way of organizing your wild jungle of stuff so that you don't have to be Tarzan swinging from the shelves every time you need to find something in there?
Without delving into any psychobabble here, it's safe to say that a messy closet doesn't contribute to anyone's happiness. Conversely, an organized closet can bring forth euphoric joy, or, at the very least, a sense of relief at finally finding that long lost sweater, tennis racket or other missing treasures.
It can be amazing what a well organized hall closet can do for eliminating a lot of the frustration and chaos taking up residence in your home and essentially your life. A happy hall closet can alleviate stress and restore the much needed balance to your storage space.
With a bit of willingness, creative thinking and a couple of hours of your time, creating a storage solution for your hall closet that will put a smile on your dial every time it's opened, is only a few steps away.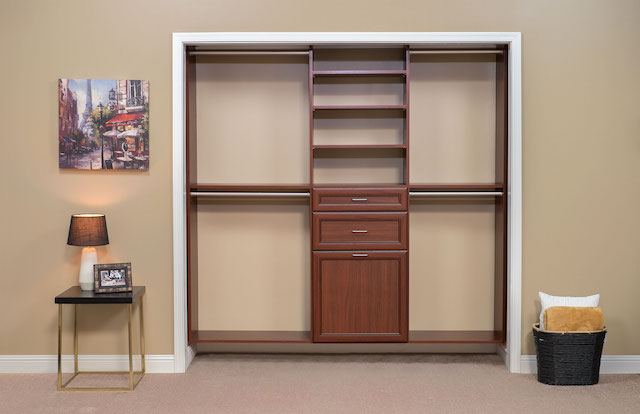 How to Plan a Happy Hall Closet in Your Home | Kansas
Most of us tend to stash away too much in our hall closets usually for lack of a better storage solution. Often not being able to find what we need amongst the chaos, we buy more of the same thing and it becomes just another layer in the hall closet. Eventually the mess can't be put off any longer!
Take Stock Of What's Currently In Your Closet.
As painful as the process may sound, unloading a closet's entire contents will give you an honest account of what lurks in the recesses. Donate or toss as necessary and start from scratch. This single act will liberate you from having a bunch of useless stuff weigh you down and crowd out what you do value. Once you know exactly what you want to keep the process of reorganizing and designing your optimum hall closet space is much simpler.
Make Good Use Of All The Available Space
Empty sections of walls or the insides of doors are prime real estate for new or additional cabinetry, towel bars, hooks or dowels. Using modular shelving, storage bins, cabinets and over-the-door hangers provides effective ways to improve hall closet organization. Consider installing some custom cabinetry which can offer you many special features and space-saving designs to suit and enhance the happy state of your hall closet.
Add Lighting
Lighting is key to finding anything in a closet, though so often there's not enough of it. Newer homes may have a single overhead light that is minimally helpful, while older homes may not be equipped with any light at all. Optimize your hall closet organization by adding shelf lighting or down lights that will maximise the visibility of all your items. If installing new cabinetry this can be easily be done at the same time.
Group Like Items Together
Think of your closet as you would your desk files. If those files weren't organized in some sort of comprehensive fashion, you'd never accomplish anything at work.The same is true for hall closet organization, but with slightly different objectives. The best way to accomplish this is by grouping like items together to make accessing what you need more efficient.
Make The Top Shelves Easy To Use
Not everyone is tall, but even those of us who are short should have access to our closets' full dimensions. For better hall closet organization consider installing a rolling ladder, or investing in a cool stool . These are relatively inexpensive ways for accessing those otherwise out-of-reach spaces that taunt the vertically challenged.
Calling the Life Uncluttered Cavalry
"A place for everything and everything in its place." This proverb sums up what we all wish for in our hall closet organization. Achieving this can be as simple as calling in the Life Uncluttered cavalry to help you overcome the overwhelm and share how best they can help you to achieve your happy hall closet organization needs.
For residents in the Kansas City area you have an exclusive opportunity to claim a No Obligation FREE In-Home Design & Consultation from the experts in hall closet organization.
To claim yours call (816) 295-7664 today and make an appointment with one of Life Uncluttered's qualified design consultants who would be delighted to help make your hall closet a happy space in your home.
Be inspired with more ideas for living a Life Uncluttered. Download the Free Guide to Simplify Life through the Tao of Home Organization.